Individual Ticket
Adults – 80 CZK
Children - age 7-15 – 40 CZK
Children - age 4-6 – 20 CZK
Students < age 26 with valid ID – 40 CZK
Seniors – 40 CZK
Disabled – 40 CZK
Disabled with Carers – 40 CZK (Carers attending with disabled visitors – free)
Family Ticket (2 adults + 3 children < age 15) – 180 CZK
Group Ticket (>15 people)
Adults – 50 CZK
Children - age 7-15 – 35 CZK
Children - age 4-6 – 15 CZK
Students < age 26 with valid ID – 35 CZK
Seniors – 35 CZK
Season Ticket (15 entrances)
Adults – 750 CZK
Children - age 7-15 – 530 CZK
Students < age 26 with valid ID – 530 CZK
Seniors – 530 CZK
A person with a season ticket is eligible to receive a reduced admission of 15 CZK for 1 child - age 4-6.
2 Towers (New Town Hall Viewing Tower + Bolt tower) - 230 CZK
The discounted ticket combines (includes) an entrance to the New Town Hall Viewing Tower with a guide's commentary and a 100-minute guided tour of the so-called Blast Furnace Circuit A. The visitor circuit focuses on a production of a crude iron and the history of the "Dolní Vítkovice" area and also includes a free transport by a skip hoist along the route of the Blast Furnace charge and an entrance to the Bolt Tower with the possibility of visiting the Bolt Café.

Owners of the Beskydy Card have a 20% discount on the entrance fee to the New Town Hall Viewing Tower.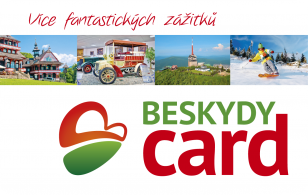 The participants of the guided tours are provided with a discounted entrance fee to the viewing tower. For groups over 10 people is recommended personal booking via e-mail or phone.
Opening hours
March – October 9:00 – 19:00
November – February 9:00 – 17:00

Open daily including public holidays.

Changes in opening hours will be published in News.